Smile Makeovers
Our Full Mouth Rehabilitation Services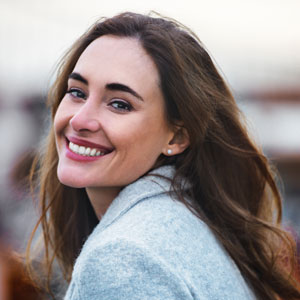 At Hugh Fleming Dentistry, we place utmost importance on the long-term health and comfort of our patients. Nothing makes us prouder than seeing a patient enjoying optimum oral health and a smile they feel confident about, which is why we focus on all areas of dentistry, including general, cosmetic, and restorative services.
In some cases, a patient may require extensive procedures over a longer period of time to achieve a smile that is correctly aligned, functional, and free of imperfections. This is why we offer our comprehensive Smile Design services, allowing patients to undergo a complete transformation with full mouth rehabilitation.
What Does a Smile Design Involve?
Smile Design combines our most popular cosmetic treatments (such as veneers, crowns, bridges, fillings, dental implants, teeth whitening, and clear aligners) with the latest in dental technology and materials to help you achieve the smile of your dreams.
During your initial consultation, our dentist will thoroughly assess your mouth and use digital imaging to gain a more comprehensive view of your oral health. We will then discuss your treatment options with you, taking important elements into account, such as your gum contour, the shape of your teeth, your facial shape etc.
At Hugh Fleming Dentistry, we can create a Smile Design to suit a wide range of budgets and needs. Our oral health care professional will take the time to sit down with you one-on-one to discuss your desired results and answer any questions you may have regarding treatment.
Are You a Candidate for a Smile Design?
You may be the perfect candidate for a Smile Design if you are suffering from, or concerned about any of the following:
Short or worn-down teeth
Chipped, cracked, or broken teeth
Missing teeth
Headaches, jaw, or muscle pain due to incorrect jaw alignment
Boost Your Confidence with a Beautiful Smile
If you've been dreaming of a more beautiful and confident smile, then now is the time to begin your Smile Design journey! Call our practice today to schedule a consultation with our professional team.
CONTACT US

Smile Makeovers Mosman, Cremorne, Neutral Bay, Kirribilli, Cammeray, Balmoral and North Sydney NSW | 02 9960 8977