Hugh Fleming Dentistry Services
General, Cosmetic, and Restorative Dentistry in Mosman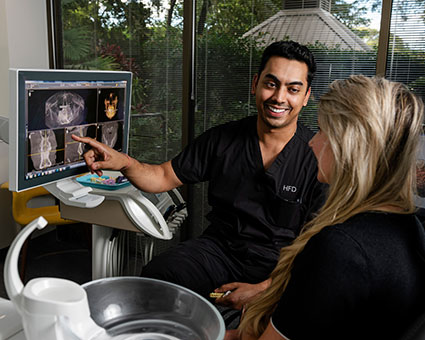 At Hugh Fleming Dentistry, we believe that optimal oral health is best achieved with services focusing on the head, neck, and mouth – not just a patient's teeth. This is why our professional and highly-experienced team provide holistic treatments for you and your family across general, cosmetic, and restorative dentistry.
While our oral health care professionals specialise in individual facets of dentistry (including restorative dental implants and cosmetic facial injectables), we have also been providing the highest quality of general dentistry services, such as fillings, root canals, wisdom tooth extractions, hygiene, and more to patients of all ages for over 18 years in Mosman.
Your All-in-One, Family Dental Practice
Hugh Fleming Dentistry is passionate about helping families achieve and maintain optimum oral health. From helping an infant become accustomed to the dentist, to assisting them to brush their teeth correctly, our children's dentistry services contain that gentle, friendly, and fun approach that our littlest patients require.
Alternatively, we also offer highly-reputable treatments for patients of all ages, including dental extractions, implants, bridges, or hygiene appointments (just to name a few). We want to be here for you and your family through every step of your oral health journey and are only ever a phone call away. We offer after-hours emergency care on 0423 333 923 and schedule time each day for same-day emergency appointments.
Specialised Services that Put You First
Along with our wide range of general, cosmetic, and restorative dental treatments, we also offer specialised services to ensure your comfort and peace of mind. These include highly reliable and trusted sedation methods, as well as sleep apnoea treatments and emergency dental.
Our sedation methods not only help you to have a pain-free and comfortable experience in our chair, but they also allow those suffering from dental anxiety to seek treatment without suffering from additional stress, discomfort, and panic. Our team of oral health care professionals can administer sedation via IV, happy gas, or orally (in tablet or liquid medicine form).
Additionally, our comprehensive range of services also includes sleep apnoea assessment and treatment. During your routine check-up, our dental professionals can assess areas such as the throat and jaw to determine whether sleep apnoea concerns are present. We can also create a customised night splint to help remedy this problem. Those wishing to further treat the condition are referred to our trusted, local specialist.
Complete Smile Care at Hugh Fleming Dentistry
When it comes to holistic services which help you and your family to maintain optimum oral health, we encourage you to experience the Hugh Fleming Dentistry difference for yourself. Contact us today to schedule a consultation with our friendly team!
CONTACT US

Hugh Fleming Dentistry Services | 02 9960 8977