Sleep Dentistry
Sedation Methods at Hugh Fleming Dentistry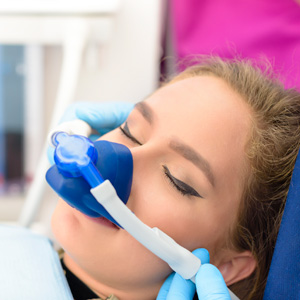 At Hugh Fleming Dentistry, our patient's comfort and well being are of utmost importance to us. Our professional team includes a Dental Board registered dental sedationist who has been fully trained and accredited in all methods of sedation dentistry, allowing us to offer the highest quality and safety of dental care to our patients.
Treating Anxious Patients
Because we take the time to form long-term, meaningful relationships with each of our patients, we recognise when someone may be suffering from dental anxiety or phobia. Sometimes, this anxiousness can be so severe that it prevents a patient from seeking dental treatment at all, resulting in poor oral health that affects their overall wellbeing.
Dr Kerryn Wilson, Safe Sleep Dental
Our purpose build treatment rooms allow for a qualified dental sedationist from Safe Sleep Dental to safely administer intravenous sedation. Visit the website to learn more about sedationist Dr Kerryn Wilson.
Types of Sedation
IV Sedation
IV sedation (also known as "sleep dentistry") involves administering a combination of sedative drugs intravenously. It is one of the most advanced forms of sedation available, however unlike a general anaesthetic, it places the patient in a conscious, yet deeply calm and dreamlike state. It doesn't require hospitalisation and can actually be performed right here in our practice by an Dental Board registered dental sedationist.
Happy Gas Sedation
Happy Gas sedation is administered via a breathing mask which is placed comfortably on the patient's nose. After inhaling the happy gas for around 2-3 minutes, the patient becomes extremely relaxed, yet still remains conscious. Not only does this sedative method effectively avoid discomfort, but it is also safe enough to use on patients of all ages (including infants) as it produces no harmful side-effects.
Oral Sedation (Tablets and Medication)
Oral sedation provides the least complex and invasive form of sedation, and it simply involves a combination of anti-anxiety medication to be taken in tablet or liquid form. It can be administered for a wide range of dental treatments and like the previous sedative methods, is still highly effective.
Want to Learn More?
Do you wish to find out more about our comprehensive sleep dentistry or sedation methods? Contact Hugh Fleming Dentistry today to find out how our caring and friendly team can help you!
CONTACT US

Sleep Dentistry Mosman, Cremorne, Neutral Bay, Kirribilli, Cammeray, Balmoral and North Sydney NSW | 02 9960 8977