Check & Cleans
Dental Exams and Hygiene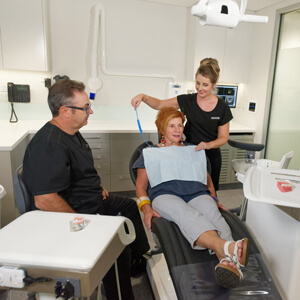 Our experienced team also includes dental hygienists who have a wealth of knowledge and experience in matters relating to oral hygiene and health. Working together, our dentists and dental hygienists help patients to combat dental concerns whilst working towards a cleaner and fresher smile. They do this by performing comprehensive dental exams and hygiene assessments.
It is recommended that patients book an exam and hygiene appointment every 6 months, although this time frame may depend on each individual patient's oral health care needs.
What Does an Exam and Hygiene Appointment Involve?
At Hugh Fleming Dentistry, during a hygiene and exam appointment, our professional team will place the utmost care on focusing on prevention and oral health from a holistic standpoint. You will find that these appointments are incredibly thorough, incorporating many key areas such as dental and periodontal assessment, bite and jaw joint assessments and an oral cancer screening.
The examination offers a whole mouth assessment of all tissues, whilst also concentrating on a patient's bite. Sometimes common health complaints such as sleep apnoea, headaches and insomnia can be caused by problems relating to the teeth and jaw. Thanks to our comprehensive examinations and state-of-the-art digital x-ray imaging technology, our team are also able to screen for any potential concerns which may contribute to these issues.
The hygiene assessment is undertaken by our highly experienced dental hygienists, and serves an important role in the detection, treatment and prevention of decay, periodontal (gum) disease, recession, tooth mobility and sensitivity. Gum disease can potentially cause infections (abscesses), bone loss, and eventual tooth loss.  Additionally, if untreated, gum disease may increase the risk for atherosclerosis induced conditions such as coronary heart disease and stroke, complications of diabetes, adverse pregnancy outcomes, and respiratory diseases.
Our dental hygienist will evaluate the health of your gums and discuss the preventative measures that may be taken to achieve and maintain optimum oral health. Your dental hygienist will then do a thorough and gentle clean around each tooth, removing plaque and calculus build-up and staining as well as develop a tailored home oral care routine that is right for you.
Schedule Your Exam and Hygiene Appointment Today!
It's vital you attend comprehensive exam and hygiene appointments on a regular basis to keep your oral health in check. Schedule yours today by contacting Hugh Fleming Dentistry!
CONTACT US

Check & Cleans Mosman, Cremorne, Neutral Bay, Kirribilli, Cammeray, Balmoral and North Sydney NSW | 02 9960 8977