New Patients at Hugh Fleming Dentistry
We love welcoming new patients to Hugh Fleming Dentistry and pride ourselves on offering personalised care to everyone who enters our practice. Our professional and friendly team take the time to build a one-on-one relationship with each patient, always ensuring they receive the highest quality of care.
We believe that visiting the dentist should be a positive experience for everyone and take steps to ensure new patients have a seamless, carefree and enjoyable transition to our practice. Our caring team are always on-hand to offer advice or answer any questions you may have along the way.
What to Expect on Your First Visit
When visiting Hugh Fleming Dentistry for the first time, you will be greeted at the door by our warm and friendly receptionist, before being offered a refreshing beverage such as coffee, tea, or water. We gather a new patient's details and discuss their concerns prior to their initial consultation, allowing our dentists and hygienists to personalise their treatment from day one. We also don't make new patients fill in patient history forms, and instead choose to do this face-to-face in our relaxing and modern consultation room upon arrival. This allows us to stay true to our core values of building rapport with each patient and treating them as individuals.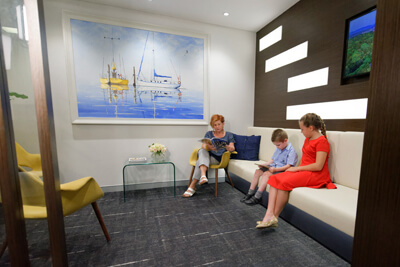 Once the patient's medical history has been gathered, they are then invited to sit back in our 'meet and greet' lounge area where they can enjoy additional entertainment such as guest WiFi, television, and iPads. Our experienced team are always running on-time and do not like to keep patients waiting, therefore you will never hear us refer to our relaxing lounge area as a 'waiting room'.
Generally, a patient's first appointment will take the form of a comprehensive examination and clean, however this will depend on whether the patient has more pressing oral health concerns to attend to. For example, if needed, our professional dentists are able to do many treatments such as fillings and crowns in the first appointment.
Visit Our All-in-One, High-Quality Practice Today!
If you want to experience our personalised and high-quality dental care for yourself, please schedule a consultation with our warm and friendly team today. We look forward to meeting you and your family!
CONTACT US

New Patients at Hugh Fleming Dentistry | 02 9960 8977