Dental Veneers
Achieve the Smile of Your Dreams at Hugh Fleming Dentistry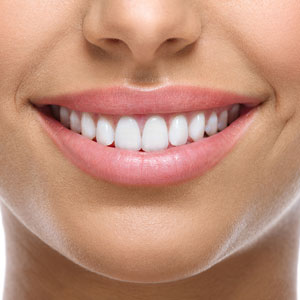 Veneers are just one of the popular cosmetic dental services we offer at Hugh Fleming Dentistry. They allow patients to dramatically improve their smile without the need for more complex procedures, plus they provide a fast and comfortable method for helping patients achieve a straighter, whiter, and more stunning smile.
At Hugh Fleming Dentistry, we use porcelain veneers and digitally create these in-house using our technologically-advanced CEREC machine. Not only does this save additional turnaround time, but our custom-made porcelain veneers are incredibly strong and long-lasting, resulting in a smile you'll love.
What Are Veneers?
Veneers are essentially very thin sheets of porcelain, which are then bonded to the front of your teeth to improve your smile. They are used to mask a variety of aesthetic issues (such as improving the shape, colour, and layout of teeth) and create a natural-looking smile that patients can feel more confident and proud of.
Are Porcelain Veneers Right for You?
Have you ever wondered if you're the perfect candidate for veneers? Our porcelain veneers are designed to remedy the following dental concerns:
Poorly-shaped teeth
Chipped teeth
Discoloured teeth
Crooked or misaligned teeth
Teeth which are inconsistent or uneven in appearance
A smile containing gaps at the front
Teeth suffering from wear and tear
The Veneer Process
To begin the veneer procedure, your dentist will gain a more comprehensive overview of your mouth during an initial consultation. This will involve digital imaging (such as x-rays and / or intra and oral photographs) to assess your situation. We are also able to produce wax mock-ups of your veneers to give you a greater example of how they will look.
In most cases, our porcelain veneers are made in-house using our state-of-the-art digital equipment. Sometimes, we will also utilise an external, local dental lab for the creation phase. Both methods only use high-quality, trusted, and safe materials, ensuring our patients receive the best results possible.
Once the veneers have been created, we bond them to the tooth's structure. Because some patients may experience concerns with their new bite (such as jaw-clenching), we also custom-make a protective night split to further counteract these issues.
Boost Your Confidence with a Beautiful Smile
If you would like to dramatically improve your smile in as little time as possible, porcelain veneers may be the perfect cosmetic treatment for you! Schedule a consultation with our friendly team today to find out more.
CONTACT US

Dental Veneers Mosman, Cremorne, Neutral Bay, Kirribilli, Cammeray, Balmoral and North Sydney NSW | 02 9960 8977