Mouthguards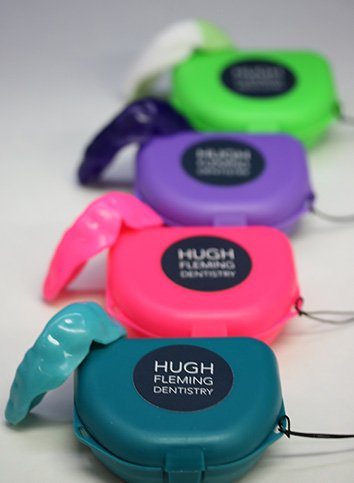 The team at Hugh Fleming Dentistry offers a broad array of dental solutions to suit your needs. If you are active in sport, we recommend that you be fitted for a custom-created mouthguard that protects your teeth, gum and jaws from damage.
A mouthguard fits comfortably over your teeth and can be worn during a game or practice where there is a risk of an impact. Such an injury can result in lost teeth, jaw fractures, soft tissue damage, broken or chipped teeth and injury to the lips.
Prevent Trauma and Injury
The Australian Dental Association (ADA) reports that a third of traumatic teeth injuries are related to sport. According to Sports Medicine Association Australia, 50% of children experience a dental injury, making a mouthguard essential for active adults and kids alike. With a mouthguard fitted to your mouth, you can prevent injury from occurring.
A direct impact to the face can affect your teeth, jaw and upper skull, risking fractures of teeth, concussions and more. A mouthguard absorbs some of the impact and lessen the force taken on by your mouth and jaws.
Why a Custom Fitted Mouthguard is Essential
The mouthguards you see in shops aren't fitted by a dental professional. You may find that it is bulky, uncomfortable and that you're unable to speak properly while wearing it. Furthermore, an improper fit can mean less protection for you.
At our practice, we begin by taking impressions of your teeth to make sure the fit of your mouthguard will be seamless. They require at least four millimetres of thickness to provide the cushioning effect. The fit, however, is snug so that you can speak as you wish.
After you've had an initial fitting appointment, it takes just 2-3 days for the mouthguard to be fabricated and returned to our practice.
Represent Your Team
Our tailored mouthguards can match your team colours, too. They're available in many colour options so that you can choose what you'd like. Contact our friendly team today to arrange your appointment!
CONTACT US

Mouthguards Mosman, Cremorne, Neutral Bay, Kirribilli, Cammeray, Balmoral and North Sydney NSW | Hugh Fleming Dentistry