Root Canal Treatment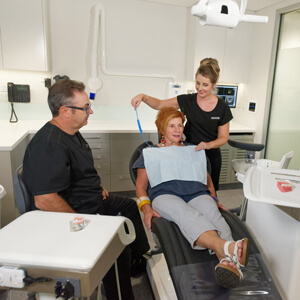 Endodontic Treatment at Hugh Fleming Dentistry
Root canal treatment is just one of our common general dentistry procedures and is something that our professional team is able to perform right here in our Mosman practice.
While our team is incredibly experienced in performing root canal therapy, they choose to refer very difficult cases to a local and trusted specialist in order to give the patient an even greater chance at saving their tooth. This is just one of the many ways that we put our patient's oral health needs and wellbeing first.
Do You Require Root Canal Therapy?
There are a number of signs and symptoms that can indicate whether you require root canal therapy. These include:
Extreme dental pain or discomfort
An abscess
Loss of structure due to previous trauma
Schedule a Consultation
If you're experiencing any of the concerns above, or simply wish to discuss this treatment further with our team, please schedule an appointment with us today. Our oral health care professionals will be able to thoroughly assess your mouth for any signs of infection.

Root Canal Mosman, NSW | 02 9960 8977
Any surgical or invasive procedure carries risks. Before proceeding, you should seek a second opinion from an appropriately qualified health practitioner.