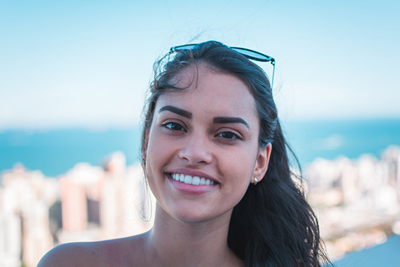 Don't go another day feeling self-conscious about your smile, there's no better time than the present to get a beautiful, straight smile with Invisalign! Here are some FAQ and answers to help guide your decision.
What is Invisalign?
As a remarkably effective and popular alternative to conventional metal braces, Invisalign uses a series of clear plastic aligners to help wearers achieve a straight and stunning smile. The aligners need to be worn 22 hours a day and are removed only to eat and brush your teeth.
Is Invisalign comfortable?
Invisalign users find the trays quite comfortable to wear as they fit smoothly and securely in place, however you may experience slight pressure with each set of trays as they actively apply pressure to shift teeth into their new position. This pressure dissipates within the first few days of each set of trays.
Can you provide me with a quote over the phone?
The reason we don't do that is that every patient is unique; we don't feature a one-size-fits-all approach to pricing. Usually the severity of the misalignment of the teeth with reflect an extended treatment time. If your particular case requires that your teeth move more, then your treatment likely will cost more.
How can I decide which dental practitioner I should see?
It depends on your preferences. Most people are looking for a highly experienced practitioner who provides convenient, quality care that's also affordable. Our dentists offer just that and more. As you know, reading online reviews from other patients is one of the best ways to find out if a particular dental practice is the right one for you, we are honoured to have received many five-star reviews from patients who are pleased with the service they receive at Hugh Fleming Dentistry.
Apart from Invisalign, are there other clear aligner systems?
Yes! We also offer ClearCorrect®, which also allows you to straighten your teeth without wearing traditional metal braces. Both Invisalign and ClearCorrect do a fantastic job of straightening teeth, comfortably and discreetly. To determine which system is best for your smile needs, we invite you to book a consultation and examination with one of our dentists. You will be equipped with the information you need to guide your decision.
Is Invisalign better than braces?
In some cases, yes, while in other cases it's preferable to straighten teeth with traditional braces or even lingual braces. The best first step to take is booking a consultation with one of our dentists. The dentist can inform you of the advantages and disadvantages of each system and make his recommendation based on your preferences and the results of your exam.
WANT TO LEARN MORE?
If you have additional questions about Invisalign, please contact Dr Ricky Patel at Hugh Fleming Dentistry today!
CONTACT US