3D Xrays
Efficient and effective dentistry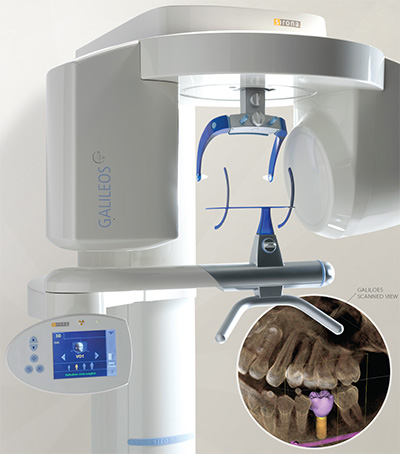 Hugh Fleming Dentistry is pleased to offer cutting-edge 3D Cone Beam X-ray technology to provide you with the most efficient and detailed dental x-ray diagnostics available leading to the most comfortable and safest dental care possible.
The innovative Galileos® diagnostic system creates a 3-dimensional image of your entire jaw in a matter of minutes allowing us to diagnose any problems more accurately and efficiently than ever before. The 3D scans taken by the system are far more detailed than traditional 2-dimensional X-rays, giving us a more in-depth look at your teeth, and jaws. This lets us detect early signs of any dental problems, so we can treat them before they develop into more serious conditions, meaning fewer appointments and reduced costs for you in the long run.
At Hugh Fleming Dentistry, the use of 3D Cone Beam X-ray technology, in all dental implant procedures, allows us to perform fully guided "Key Hole" implant placement with extremely high degrees of safety and accuracy along with minimal post-operative discomfort and in-chair time.
Want to Learn More?
If you're interested in finding out more about our 3D diagnostics please contact 02 9960 8977 today to schedule a consultation with our friendly dentist.
CONTACT US

Dental Crowns Mosman, NSW | 02 9960 8977
Any surgical or invasive procedure carries risks. Before proceeding, you should seek a second opinion from an appropriately qualified health practitioner.