ClearCorrect®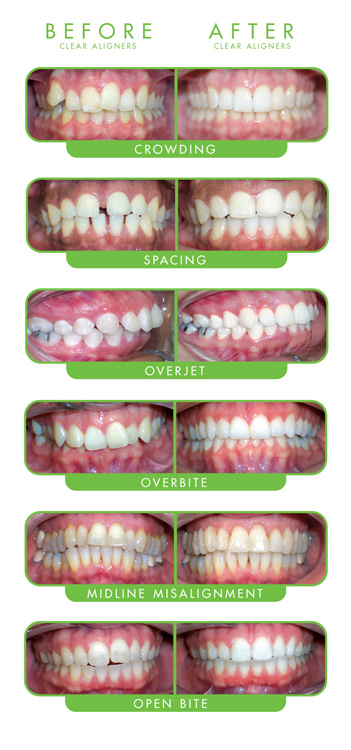 So you want to straighten your smile without the whole world knowing? Hugh Fleming Dentistry has a solution for that! With ClearCorrect, you can enjoy a straighter smile without having to wear traditional metal braces that feature unsightly wires and brackets. This smile aligning option is affordable and allows you to get the smile you've always wanted at a price you can afford.
Who Can Benefit From ClearCorrect?
ClearCorrect is ideal for addressing the following issues:
Crooked and crowded teeth
Gaps between teeth
Mild to moderate tooth rotation
Protruded teeth
Deep overbites
How Does ClearCorrect Work?
ClearCorrect uses a series of high-quality transparent aligners that are custom-fitted to your teeth. Practically invisible, the aligners apply gentle pressure to guide your teeth into a more desirable position. As the teeth gradually move, you will switch to a new set of aligners every two weeks until the teeth are in their desired position.
As we can provide you with several sets of ClearCorrect aligners to take home, you can advance treatment on your own. You will just need to schedule a follow-up visit every 6-8 weeks to pick up your new trays and make sure that your teeth are shifting as they should.
Frequently Asked Questions
How Much Does ClearCorrect Cost?
Your total treatment cost will depend on the complexity of your case and the length of treatment time. You will be given a detailed estimate of the cost when you come in for a consultation.
Can I Eat While Wearing the Aligners?
One of the best parts about ClearcCorrect is that you can remove them at mealtimes. Unlike certain food restrictions that you need to be mindful of with traditional metal braces, you can eat whatever you want with ClearCorrect.
How Long Should I Wear My Aligners Each Day?
For optimal results, it's essential that you wear ClearCorrect aligners at least 22 hours per day. In addition to removing them before eating, you need to take them out for brushing and flossing.

ClearCorrect® Mosman, Cremorne, Neutral Bay, Kirribilli, Cammeray, Balmoral and North Sydney NSW | 02 9960 8977